It still feels like yesterday when we welcomed Gavin Burns to join the team as our VP of Acquisitions. But just like that, 5 years flew right on by, and as he will tell you, that's a pretty big deal here. So much so, that when full-time LOGErs work 5 years with us, they get any outdoor adventure they want completely covered. Gavin went big. 14,411 ft big. So, without further ado, here he is, taking over the writing duties to share his once-in-a-lifetime adventure in his own words.
Since I was young, I've always imagined what it would be like to stand on the summit of Mt. Rainier. I even convinced my mom, my best friend Adam, and his mom to hike up to Camp Muir when we were in fourth grade, although my backpack ended up being carried most of the way by my mom. After close to a dozen visits to Camp Muir over the years, I finally had a summit attempt in 2008 with my dad, brother, and friend, but due to poor weather on the Disappointment Clever route, we failed to get past Camp Muir. I was still determined to summit though, telling myself year after year that I would get it planned, but 15 years had come and gone, and still no summit. I managed to find my way on top of Mt. Baker, Mt. Hood, Mt. St. Helens, and yet Rainier remained elusive.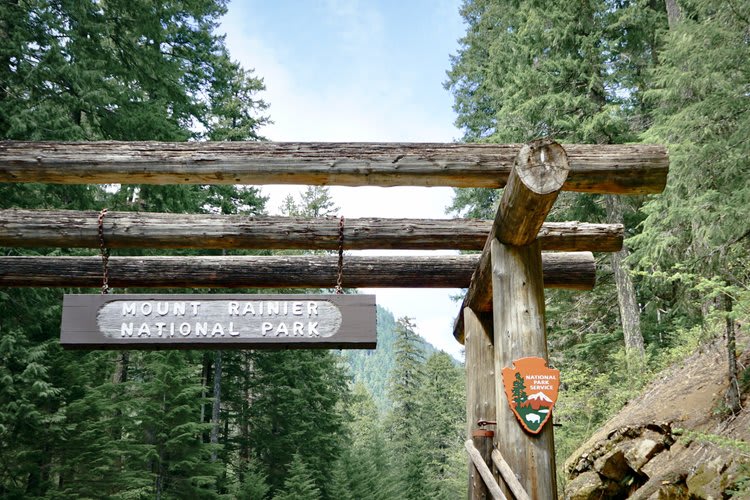 In 2017, when I became a part of the LOGE Camps team, my offer letter included a paragraph that caught my attention. It stated that upon reaching my 5-year work anniversary, LOGE would fully cover an outdoor adventure of my choice.
From the very first day of my employment at LOGE, the company's philosophy of "LIVE OUTSIDE GO EXPLORE" was ingrained in me, and it was something that we practiced as a team. Throughout the years, I often told my colleagues that I was taking a half-day off to go fly fishing on the Yakima River or skiing at Crystal Mountain mid-week after a heavy snowfall. It was understood that if we felt the urge to be outdoors, we could get our job done and then take some time to enjoy nature.
So, when I hit my 5-year LOGE anniversary, I wasted no time calling Martin Volken at Pro Guiding Service to inquire about summiting Mt. Rainier. I managed to secure the only climbing permit that Pro Guiding had received for the year, and my friend Matt and I were now scheduled for a July 4th climb via the Emmons Glacier. The rest, as they say, is history.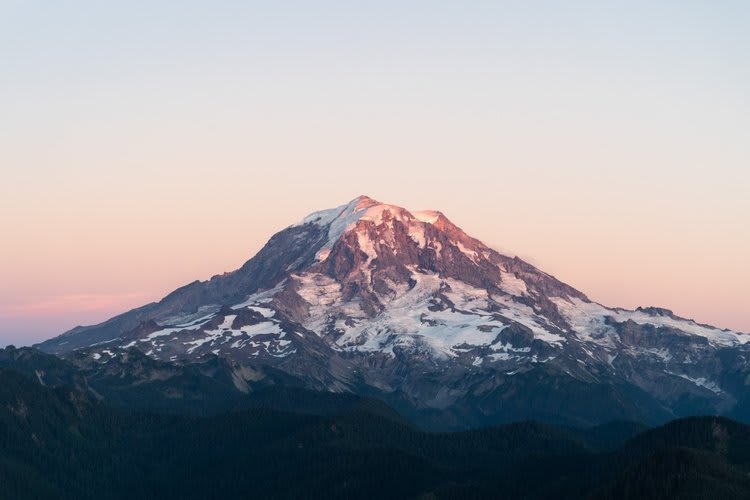 Mt. Rainier is not Mt. Everest. It is climbed regularly by people of all ages, but it is still a formidable undertaking that demands a great deal of respect, rigorous physical preparation, and the navigation of steep, icy terrain riddled with perilous crevasses. This is no ordinary 14,000-foot peak. In fact, Mt. Rainier's prominence exceeds 13,000 feet, making it more prominent than both K2 and Kanchenjunga - the third-highest mountain on the planet.
Back to the climb: We started in the thick forests that surround Mt. Rainier and quickly made our way up to Glacier Basin, where we set up camp for the night, took some short hikes up around the corner to view the Inner Glacier, and took some time to review knots, glacier travel, and crevasse rescue from our guides Aaron and Doug.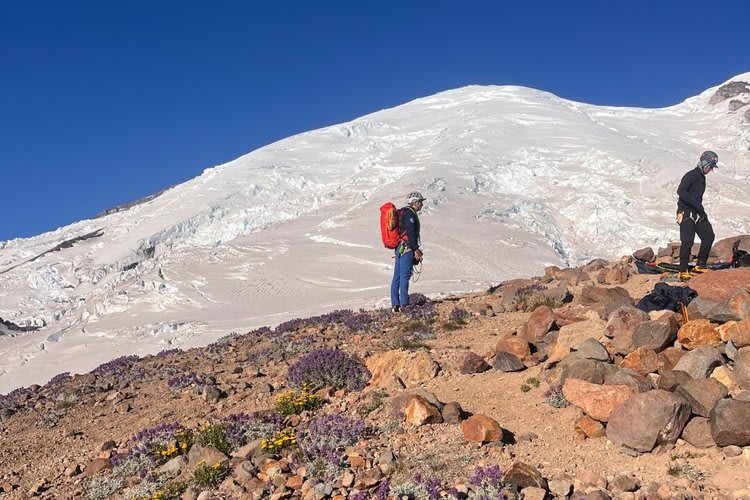 The following morning, we woke up at 5am, brewed some unpalatable coffee, and swiftly ascended the Inner Glacier before descending from Steamboat Prow and navigating a steep, shale rock field that led us onto the Emmons Glacier. Once there, we roped up and made our way up to Camp Schurman, situated at an elevation of 9,500 feet.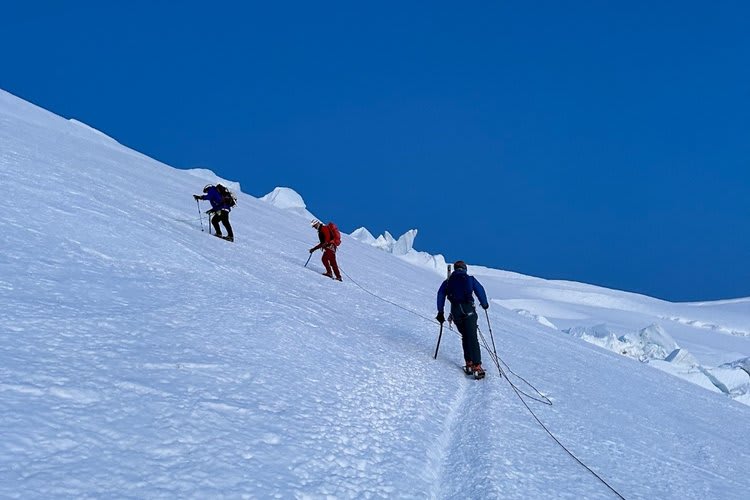 The Emmons Glacier was an imposing sight that we couldn't ignore. It covers the largest area of any glacier in the 48 contiguous states and measures over 300 feet thick in certain places. After setting up camp on the glacier, we spent the afternoon reviewing our plans for the final ascent, honing our knot-tying skills, and preparing ourselves both physically and mentally. Despite our efforts to get some rest after a dinner of freeze-dried chicken pesto pasta, our nerves got the best of us. We stayed up, cracking jokes and admiring the fireworks lighting up the valleys below until our 11:40pm "wake-up" call.
After making some oatmeal and melting snow for water, we began to debate what layers we should wear. The biggest question was whether or not to wear long underwear. We ended up wearing 'em, and it was absolutely the right decision.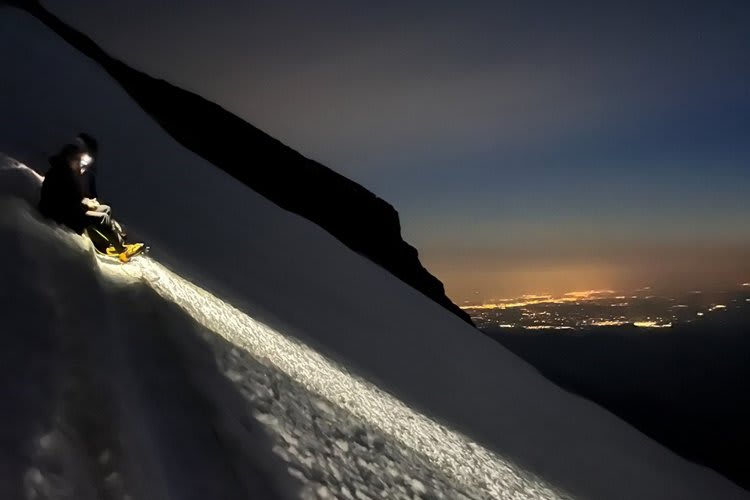 At 1am, it was go time. We set out in two rope teams of three with our headlamps and the full moon to guide us up the steep glacier. It didn't take long - only about 100 feet from our tents - before we began stepping over, around, and jumping crevasses. We pushed hard for an hour and fifteen minutes before taking a quick break for water and checking on everyone's condition. The next few hours were challenging, as our guide Aaron set a fast pace and we encountered cold, steep, and windy terrain. We passed another rope team at around 12,500 feet in "The Corridor" who had left camp around 11pm. We exchanged surreal and exhausting greetings as we pushed past them. At around 3:30am, while at 13,000 feet, my headlamp gave out, leaving me to rely solely on the full moon and the swaying headlamp of Doug, who was positioned 20 feet behind me.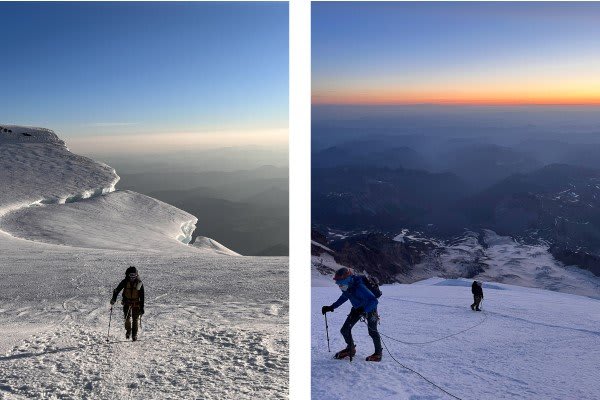 With the sun rising, we traversed across the upper mountain to reach the saddle between the true summit, Columbia Crest and Liberty Cap. As we caught sight of the summit, the team felt the effects of the elevation, and each step felt heavier and more challenging. Despite this, we persevered for another 20 hard minutes. When we finally took our last steps towards the true summit, I was filled with emotion and excitement. We caught our breath, exchanged high fives, hugged, and snapped some photos, but as we celebrated, we were reminded that reaching the summit was only half of the journey. As the saying goes, "Getting to the top is optional. Getting down is mandatory."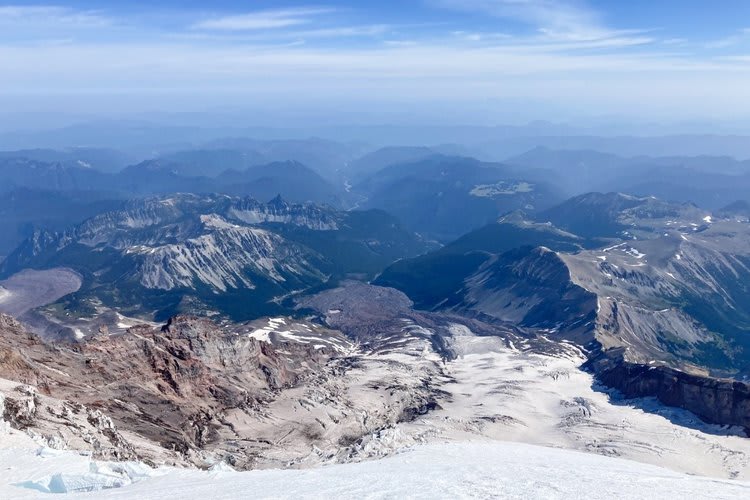 Descending from the summit proved just as demanding, if not more so. It was humbling, requiring the same level of focus and attention as the ascent, and presenting new challenges and fears. The fatigue from being awake for such a long time began to take its toll. The mountain felt twice as steep, and as the sun continued to rise, each step became more critical. The warming sun caused the snow bridges to weaken, and the mountain was warming quickly, making each step more challenging than the last. The crevasses that we had blindly walked past and over during the night were now visible. After a long and thankfully uneventful descent, it was time to celebrate what we had accomplished with a good, long nap.😉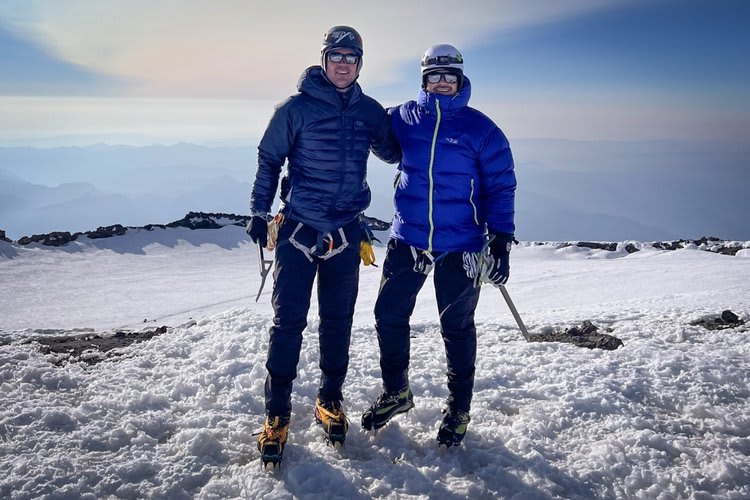 Wow, what an unreal experience. The whole LOGE team are beyond proud of Gavin, and all our employees, for taking these breaks to find themselves in the outdoors. Work, families, and obligations, they make up a huge piece of the life pie, but it's these wild adventures that can truly transform us—and we're honored that we get to be a part of that. Thank you, Gavin, for sharing and making the most of it!
Are you heading to Mt Rainier this summer? You most definitely should. LOGE Alta Crystal is located just 8 miles away from the park entrance. So, whether you're trying to summit a volcano or want to stroll amongst the wildflowers, we're here to be your base camp for all your amazing adventures.